July 27, 2020
Dear ones, here is an earworm to inflict upon the unsuspecting public:
...99 days till we all vote again,
99 days till we vote,
call up a friend, pick up your pen,
it's 99 days till we vote....
......ohhhhhh.... 98 days till we all vote again,...
- - - CONTENTS - - -
Only 99 days left until the election! What's the plan?

Messaging and Framing workshops with George Greene of Connections Lab

Absentee Ballot virtual pizza party

Racism as a public health crisis

Akhrinta-Reading Together grows

The Northland is buzzing

Become a sustainer -- for MUUSJA, for Rattler, or both....
Only 99 days left until the November election! What's the plan?
MUUSJA is coordinating efforts to "UU the VOTE" in Minnesota and the Dakotas, and we're helping UU's on the western Wisconsin border. We partner with Minnesota Voices, MNIPL, ISAIAH's nonpartisan arm, & VoteForward.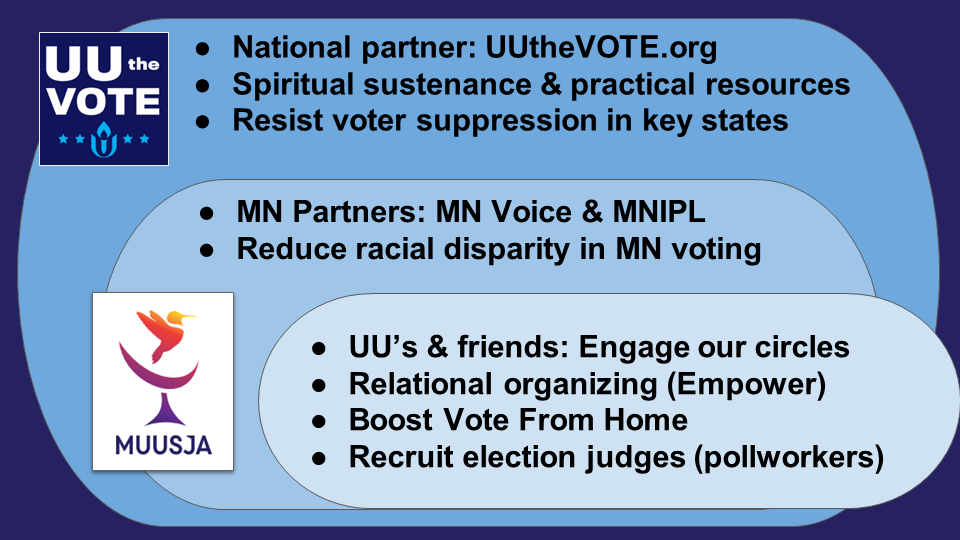 #UUtheVOTE Minnesota/Dakotas Director, Allison Wyeth, invites you to join the team of congregational liaisons starting Tuesday 7/28 for an orientation to voter engagement as a spiritual practice, relational organizing, Empower, and the letter-writing campaign VoteForward, some of the tools we will use to boost voter registration & engagement.
Get all the details of the TUESDAY 6PM MEETING and Sign up using THIS LINK
Going forward we are meeting every Tuesday (almost) evening with special guests, featured congregations, & check-ins... Coming up in August we have Dina Butcher and the Badass Grandmas from Bismarck, North Dakota (Dina's at the Bismarck-Mandan UU congregation!)
MUUSJA is organizing the UUtheVote efforts in terms of 3 concentric circles -- or "ripples" – for outreach. Individuals, small groups or congregations can get involved with any or all of these circles in accord with their own inclinations, readiness, and interests.
Particularly for anyone just starting out with voter engagement activity, we recommend beginning with the "inner circle" by contacting their own family, friends, congregation and community groups. Our congregations are asked to commit to help MUUSJA support a voter engagement organizer; to post a lawnsign or electronic sign encouraging voting (such as those developed by Minnesota's League of Women Voters); to share MUUSJA's UU the VOTE announcements and information links in their newsletters and social media; and to support some UUA funding for this regional project.
Our congregational liaisons will train volunteers to use the "Organizing Empowerment" relational organizing strategy and (if they choose to use it) the online Empower app to identify, track, and contact voters they know. This approach utilizes traditional communication tools (phone calls, text messages, emails, social media messages, postcards), to identify and engage personal contacts. The three key messages for immediate personal contacts are:
(a) Register for Vote by Mail (absentee ballot), to relieve stress on November polling places;
(b) Recruit younger, healthy relatives and friends to serve as Election Judges (poll workers) because we expect a serious shortage of poll workers in November in the suburbs and Greater Minnesota; and
(c) Commit 10 hours, between August 1 and November 1, to some form of voter outreach, either directly with MUUSJA, or with another nonprofit or a campaign.
The second "ripple" recognizes that Minnesota has a huge racial disparity in voter suppression and our majority-white congregations are called to do more this year to close that gap. MUUSJA is partnering with local nonpartisan nonprofit Minnesota Voice, an organization led by and focused on registering and engaging young BIPOC voters (Black, Indigenous, and People of Color). MUUSJA will schedule, advertise, staff and train our volunteers in online "virtual phone/text banks" in collaboration with Minnesota Voice. Our Climate Justice partner, Minnesota Interfaith Power and Light (MNIPL), is using the same strategy as MUUSJA and we will be doing several virtual phone/textbanks with Minnesota Voice as a team effort.
The outermost third "ripple" is our association with the UUA national #UUtheVote program, which is providing consultation, resources (such as the Congregational Launch manual, national Slack channel and social media, and weekly Office Hours) and "It Starts With Faith" Organizing School. Their national phonebanks are resisting voter suppression in key states. Further, for our "writing team" (people who cannot or don't choose to participate in phone or text banks), we join #UUtheVOTE in partnering with Vote Forward's nonpartisan letter-writing to voters in key states.
WHAT DO WE SAY WHEN THEY SAY...?. George Greene, a member of First Unitarian Church in Minneapolis, is an expert on FRAMING AND MESSAGING ...communicating in a way that incorporates neuroscience and behavioral psychology with the best of political science. He is offering FREE OR WHAT YOU CAN registration to MUUSJA's UU and UU-adjacent people this election season. HERE IS WHERE TO SIGN UP... For a basic 4-week course beginning Tuesday 7/28 (and repeated in September)... Or a "practicum" series on Monday evenings. Or both.
JOIN US FOR AN ABSENTEE BALLOT VIRTUAL PIZZA PARTY - THURSDAY 7/30/2020 AT 6pm,
Meeting ID: 890 1644 3275 Passcode: 122309
ANSWER: Racism, a public health crisis with too many kinds of harm and preventable deaths.
QUESTION: What does UUA G.A. have to do with George Floyd, COVID, Cold Spring, Sherburne, Standing Rock's Rattler, Bloomington "Patriots," and "The Little Prince?"
CONTENT WARNING: racism and violence. If you're living them, you might want to skip this. If not, read on.
The UUA adopted two Actions of Immediate Witness at the 2020 June General Assembly, by an overwhelming majority of delegate votes. They are the 400 Years of White Supremacist Colonialism and Amen to Uprising -- the latter explicitly describes the historic and current American-model of policing as a form of white supremacist violence and commits the denomination to seek forms of justice and public safety rooted in accountability and transformation, rather than punishment. This is a concept, not a creed -- but it's one we have promised to explore and try to understand, and implement as best we can. Because we cannot be complicit with the petty or the catastrophic aggression that's happening daily in Minneapolis, and Saint Cloud, and Duluth, and Willmar, and Bloomington, and Rochester... not to mention Portland.
And within our own denomination, we are re-examining the past and re-imagining the future. Every UU is encouraged to read the report from the Commission on Institutional Change which inspired many of the workshops at G.A. Those seminars will be available online later this year.
Only two months ago, the world watched Mr. George Floyd die under the knee of a Minneapolis law enforcement officer, under the watchful gaze of fellow officers, under the horrified pleas of a terrified teenaged girl with the guts to stand filming an unforgettable scene. If we didn't know it before, the racial disparity in state sanctioned harassment, detention, deportation, incarceration, school suspensions, state-inflicted injuries and violent death is crystal clear. We cannot unsee it or ignore the call to respond.
It's all connected: a dominant culture and moral economy that celebrates aggression and tolerates preventable deaths, because it considers some lives expendable and exploitable. In particular, Black lives. The world has watched as far more Black and Brown than White bodies are sickened and killed in a pandemic -- and even reopening the bars didn't balance that disparity. Meatpacking workers and healthcare aides in Minnesota and the Dakotas, many immigrants from Africa and Latin America, are returning to work under questionable conditions. They are treated as essential but expendable. The state of Virginia just issued worker safety standards for COVID-19 but Minnesota and the Dakotas have yet to do so, as our friends at the Greater Minnesota Workers' Center have pointed out.
Minnesota continues to detain and deport Black and Brown immigrant workers, with our friends at Asamblea de Derechos Civilies, in coalition with others, still pleading with detention and incarceration authorities to #FreeThemAll at Sherburne County and other facilities. The Santuary and Resistance group from First Universalist Church in Minneapolis will be sharing about some of their work in upcoming MUUSJA forums: Court watch, accompaniment, protesting ICE detention and providing sanctuary is a broad-spectrum anti-detention.
MUUSJA needs you again to support one of the Standing Rock Water Protectors, nicknamed "Rattler" (Michael Marcus) who is still incarcerated at the Sandstone Federal Correctional Facility in Minnesota. We need to know if you can add your name to this letter asking for his release, given the danger of COVID infection in the prison setting. We also are looking for a committed group of people willing to make monthly contributions of $10 (or more!) to cover basic life necessities at the prison commissary, phone calls and family travel, and beading supplies. Please reply to director@muusja.org and we will get back to you with details of how to apply that generous gift to Rattler's support.
In April 2002, the NIH Conference on Racial/Ethnic Bias and Health (in an extraordinary edition of the American Journal of Public Health published online in October 2011) described the impact on American's health of a moral economy that perpetuates racism. Eighteen years later, Hennepin County and the Minnesota State House declared racism a public health crisis.
It's a compounded crisis for people of color who are Muslim or Jewish. Two days ago, we participated in the suburban "March for Justice" which met up with a "Back the Blue" rally supposedly organized to appreciate police, but actually collaborating with an anti-Muslim hate group called Act for America. AFA co-hosts another "Back the Blue" in Minneapolis next month. Meanwhile, a coalition of interfaith leaders explores alternatives to policing, and several congregations are reading Vitale's "The End of Policing" and the https://www.mpd150.com/report/overview/.
Knowing that half the people of color who've been hurt or killed by police also had disabilities -- including diabetes, seizure disorders, autism, other developmental disabilities, and mental illnesses -- has me wondering more often about my younger brother, the one who sometimes caroms around the streets of Cambridge after midnight arguing wildly with the voices of his schizophrenia. Police have brought him time and again to Emergency Rooms, unharmed. But then, he's White. And cis-gender. And nobody ever needed a gun to bring him into an ER.
In "The Little Prince," an ordinary rose, a sip of water, or a sky full of stars, become extraordinary because they spark a memory of a powerful but fragile friend who visited earth for a very short time. In such a way, the act of kneeling, the act of filming, the act of breathing, the act of marching, have become extraordinary. The act of seeing race and racism, and seeing every act of anti-racism, has become extraordinarily urgent, fraught, and essential. The act of organizing and the conversations of organizers seem more intentional and relational, in a way that folks have talked about but not felt quite so deeply or widely before. Did you really think this would end with an answer? Only with a promise, that we will be hosting and posting and sharing in ongoing conversations about violence, oppression, racism, (in)justice and (im)moral economies. And how to restructure the way we do public safety, to make it, you know, SAFE. Explore: https://www.reclaimtheblock.org/ .
Akhrinta-Reading Together Grows!
Akhrinta-Reading Project Coordinator Amina Adan is connecting volunteer Readers (UU's and friends) with Somali-Minnesotan early readers. Last week, I read a terrific story about The Planets with Maryama, my new kindergarten friend. For teens or adults who really like little kids, Akhrinta is a gift. Contact us at director@muusja.org if you'd like to volunteer or if you know a kid who needs a Reader to meet with online during COVID at-home school. Thanks to Dakota UU, MVUUF, Unity Unitarian, First Universalist in Mpls, & First Unitarian Society. Please post about Akhrinta to your congregation!
As always, please keep in touch, and thank you for supporting our work. It's your stewardship that keeps us thriving as the regional UU social justice network for Minnesota and the Dakotas. Thanks for clicking DONATE to sign up as a monthly contributor.
Even apart, we are not alone. And we have choices about just how bad it really has to be.
In faith and solidarity,

Karen Wills (she/her)
MUUSJA Executive Director
612-927-2072, director@muusja.org
MUUSJA - Minnesota Unitarian Universalist Social Justice Alliance
900 Mount Curve Ave. c/o First Unitarian Society | Minneapolis, Minnesota 55403
(612) 927-2072 | director@muusja.org