On October 17, We Celebrate Writers!
Send your Vote Forward letters today & join us this evening with Reclaim Our Vote postcards rally and volunteer appreciation celebration!
Today, October 17, is The Big Send, the official mailing date for ALL of your Letters to Voters from VoteForward.org/UU (and any other Vote Forward letters). Take a selfie when you mail those letters and send it to us, please!!
Tonight, October 17 at 5:00 PM Central, Karen joins California SAN director Rev. Ranwa Hammanany, Rev. Bradley Hunt from North Carolina, and ROV's founder/director Andrea Miller for a joyful rally and THANK YOU to all of you AMAZING volunteers who sent millions of postcards to voters with Reclaim Our Vote. REGISTER HERE to join the celebration!
#UUtheVote in Minnesota and the Dakotas check-ins every Tuesday evening
Meeting ID: 835 1415 4364
Passcode: 160781
ONE RINGY-DINGY... TWO RINGY-DINGY.... Can your congregation or social action group get on the board to promote and co-host one shift, calling under-represented Greater MN voters?
CLICK ANY DATE BELOW FOR THE LINK TO REGISTER:
and we also need every Gen Z, Gen Y, Millenial, Boomer, and Radio Gen to hop on the phones now with Minnesota Voices
We will be calling Greater Minnesota younger voters, apartment dwellers and lower-income precincts and BIPOC communities to encourage folks to be #OctoberVoters and Be Like Karen (but don't be "a Karen")....
Wednesday, October 28: 6-8pm; MUUSJA calls #OctoberVoters with Minnesota Voices... Consider this a WellSpring Wednesday event!

Saturday, October 31, 9am-Noon: MUUSJA calls #OctoberVoters with Minnesota Voices... Early voting locations are open TODAY across the state and Halloween is a time to imagine what else we might be... such as a Beloved Community of voters.
Sunday, November 1, 12-3pm: MUUSJA calls with Minnesota Voices, reminding voters there is one more day -- tomorrow -- to avoid the lines at the polls, and go vote early at their elections center.
Monday, November 2, 9-12am: MUUSJA calls with Minnesota Voices, reminding voters they can avoid the lines at the polls tomorrow, and go vote early today at their elections center.
This SLIDE DECK FOR PHONE BANK TRAINING which Karen made for UUA phone banks will walk you through the process that most UUA and many other phonebanks use.
TEXT YOUR HEART OUT!
Check out the Text Bank links from our partner "When We All Vote" -- these are great for an introverted solo activity because there is no group Zoom, you just watch the video and download the OutVote app at https://www.whenweallvote.org/texting/ and then hop on one of the Tuesday, Thursday, or other days... There also are texting opportunities with MNIPL or Reclaim Our Vote (see the calendar for details), and a few with #UUtheVote -- see the textbanking with CASA !. We are not aware of any Minnesota-specific texting at this time that is nonpartisan.... To text your own friends and relations, it's not too late to download and use Empower, just get the phone app from https://web2.getempower.com/signup/muusja and check with Allison at awmuusja@gmail.com if you need some help!

Wednesday, October 21: National Phonebank to Wisconsin
Thursday, October 22: National Phonebank to Arizona
Saturday, October 24: National Phonebank to Philadelphia
Sunday, October 25: National Phonebank to Greater Minnesota, followed by the UUA worship service at 5:00pm Central
Monday, October 26: Vote Love Pledge Rally
Tuesday, October 27: National Phonebank to Florida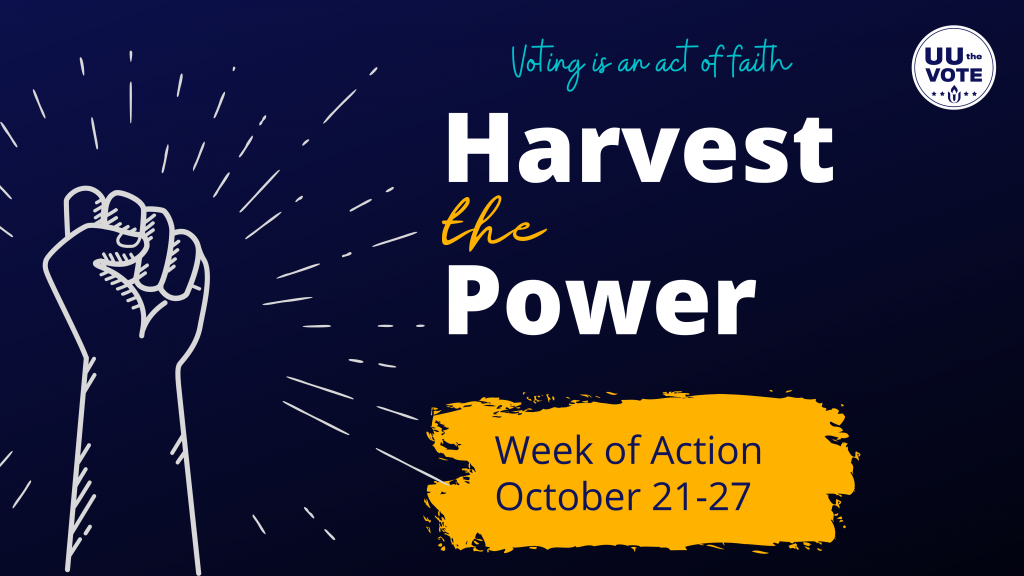 Protect the Vote & Election Defenders: 866-OUR-VOTE is the hotline!
Ranting about rampant "voter fraud" is bogus, but concerns about inappropriate or even illegal interference with voting are warranted, based on recent experience in other states. Several organizations (including Common Cause, Frontline, the Lawyer's Committee for Civil Rights, and the National Lawyers' Guild) have created online training with opportunities for anyone to protect free and fair elections. Some actions can be done from home whereas others involve in-person engagement. LAWYERS AND PEOPLE WITH SOME LEGAL TRAINING ARE ESPECIALLY NEEDED, AS ARE ALL MULTI-LINGUAL PEOPLE. Check out protectthevote.net to learn more and sign up, or come to our meeting on Tuesday evening, 10/3/2020, to hear more about what's happening around election protection in Minnesota and the Dakotas.
Meanwhile, some GOOD NEWS is that all of the polling places around Minnesota and our Dakota cities have enough election judges and pollworkers now! A few sites are still working with the political parties to balance their representation.
For folks in the Twin Cities Metro area -- we need pledges ASAP to support a tasty & fun fundraiser going on October 29th! -- Sign up for a COVID-safe TAKE OUT OR DELIVERY OR PATIO dinner to benefit Lake Street small businesses and MUUSJA: Safely "dine out" (take out, delivery, or patio dining) on October 29th from Lake Street's Midtown Global Market. Support local small business and UU justice organizing, all at once! MUUSJA keeps 20% if at least 20 people pledge to order take-out, delivery, or a patio meal from Midtown Global Market vendors via the EagleLake brewpub menu. Sign up this week to pledge to order your dinner on October 29th, at https://www.groupraise.com/events/165284
Stay amazing, everyone... For Love. With Love.
In faith and solidarity,

Karen Wills, Executive Director